Vandana S. Koelsch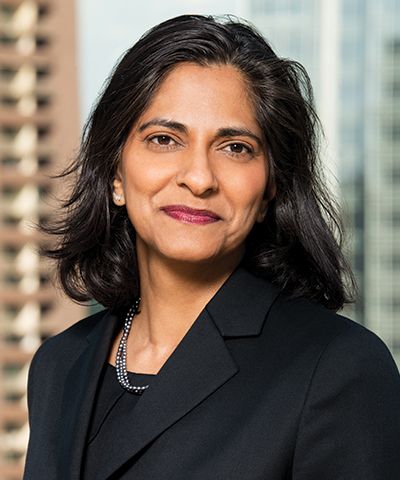 Biography
Education
Admissions & Affiliations
Vandana S. Koelsch is an experienced Colorado commercial litigator and transactional attorney with a focus on intellectual property. She handles a wide spectrum of complex cases. She trained at litigation firms in Washington DC and is adept at quickly identifying the key issues and developing an efficient and cost-effective approach. Ms. Koelsch served as Chief IP Counsel to a telecommunications company with over $1B in annual revenue. She managed the litigation, prosecution, and maintenance of the intellectual property, including patents, trademarks, web domains, and crafted privacy policies. Some of the recent matters in which Ms. Koelsch has resolved or that are currently pending include:
Commercial Transactions and Litigation
Drafted colocation facilities agreement regarding specialized container for bitcoin mining company.
Prepared private placement memoranda, operating agreements, and ancillary documents such as promissory notes and leases for cannabis operation.
Litigated novel statutory interpretation and deference due to Colorado administrative agencies.
Prevailed on directed judgment in fraudulent transfer matter in adversary proceeding.
Representing creditors in adversary proceedings against officers and directors of bankrupt oil and gas company for breach of fiduciary duties.
Intellectual property
Litigating patent infringement matter covering surveillance systems solving complex problems of unreliable distributed sensors.
Achieved successful settlement on behalf of local restaurateur by leveraging copyright registration of photographs.
Drafted trademark purchase agreement that resolved objections to trademark registration on behalf of craft brewery.
Achieved a successful settlement of a business torts case involving claims of trademark infringement, trade dress infringement, trade libel, and design and utility patent infringement claims over a mechanical device.
Litigated shareholder dispute and derivative action for a software company with competing claims of source code ownership, fraudulent copyright registration, and copyright infringement.
Represented healthcare client in action for trade secret misappropriation of client list by former employee who improperly accessed client's computer database.
Successfully resolved a domain name dispute for a Denver-based website developer under the Uniform Domain-Name Dispute-Resolution Policy.
Litigated a copyright infringement, breach of contract, and implied license action for travel vacation videos and developed damages model based on website metrics.
Counseled client on the purchase of patent portfolio related to a system of distributed energy management.
Counseled client on the patent prosecution of shale energy patents.
Successfully represented client in patent infringement matter for software technology and in retaliatory antitrust countersuit, resulting in a global settlement with favorable terms.
Prior to joining the Firm, Ms. Koelsch served as General Counsel to a publicly traded intellectual property licensing company where she managed licensing and enforcement of seminal telecommunications patents. In that role, she managed patent litigation matters in the District Courts for the Northern District of California, the Eastern District of Virginia, the Eastern District of Texas and the Southern District of New York. She oversaw more than 25 post-grant reviews before the Patent Trial & Appeal Board and three appeals to the Court of Appeals for the Federal Circuit. She created the strategy for two patent infringement trials covering software platform technology and successfully settled the matter on behalf of the client. She was integral in the sale of a video-content platform to a third party for $100M in cash and stock, where she performed due diligence and drafted key intellectual property provisions.
J.D., University of Colorado, Order of the Coif, Law Review (Editor)
M.S., University of Arizona
B.S., University of Alabama
Bar Admissions
Colorado
United States Patent & Trademark Office
District of Columbia
Florida
Court Admissions
Supreme Court of the United States
Court of Appeals for the Federal Circuit
Court of Appeals for the Tenth Circuit
Court of Appeals for the Fourth Circuit
District Court for the District of Colorado
District Court for the District of Columbia
District Court for the District of Maryland
Certifications
Registered Patent Attorney
Certified Privacy Professional
Engineer-in-Training
Data Privacy & Security Compliance, Seton Hall University School of Law, June 2021
Organizations
Rocky Mountain CleanTech Open
Senior Women's Corporate Counsel
Women in Energy
Colorado Bar Association, Ethics Committee