For an increasing number of companies, Intellectual Property has become their most valuable asset.  We're here to protect and maximize the value of this complex and fluid resource.
Our intellectual property team works with our corporate and litigation teams to counsel and protect our client's intellectual property assets. Our intellectual property expertise includes:
Patents
Copyrights
Trademarks
Trade Secrets
Valuation of IP and
Technology Transactions
Counseling. We help our clients take stock of the IP they own, IP that they should acquire, and assets that could be sold or monetized. We review and update employment agreements that fail to adequately protect our client's IP or alternatively we provide guidance to employees transitioning and safeguard against inadvertent technology transfer.
Acquisition and Licensing.  We routinely advise our clients on trademark and copyright acquisitions, whether through federal or state registration, purchase of IP assets, or via licensing. We develop, negotiate and execute the most advantageous license agreements that protect and maximize the value of IP assets. IP acquisition is critical to ensuring the successful inception and continued growth of a business.
Litigation, Arbitration, Mediation.  We counsel our clients to develop out-of-court dispute resolutions that protect a client's rights and assets, but should a situation demand litigation, skilled litigators are prepared to battle the case in federal and state courts as well as in arbitration.
Sales and Bankruptcy Transactions.  We provide guidance to the best possible avenues for valuation, marketing and sale of IP assets, whether through direct sale or  a court approved bankruptcy disposition.
Valuation.  We help businesses understand the value of their IP assets, including patents, copyrights, trademarks, trade secrets, technology and celebrity rights.  We assure maximization of value through licensing arrangements, assignments, and sales.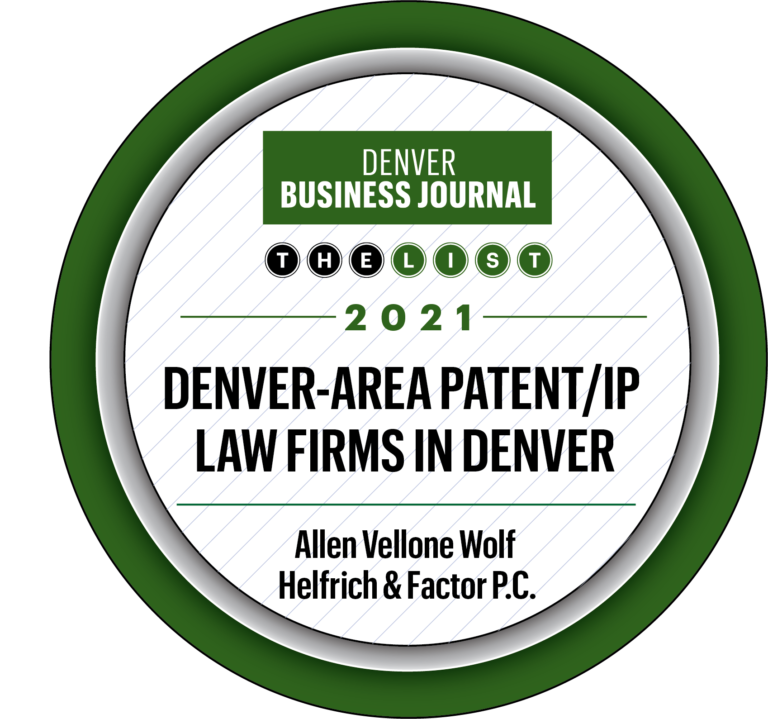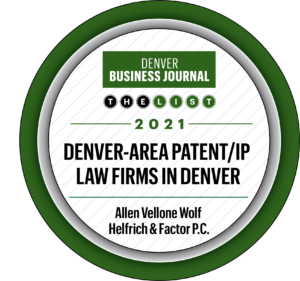 The Denver Business Journal's 2021 Edition 'Book of Lists' has recognized Allen Vellone Wolf Helfrich & Factor, P.C.  for their depth of expertise in the area of Patent and Intellectual Property Law. 
The Book of Lists is Denver's most valuable business reference guide and the one publication that Denver Business Journal readers refer to throughout the year.